"Take my yoke upon you, and learn of me; for I am meek and lowly in heart: and ye shall find rest unto your souls. For my yoke is easy, and my burden is light." – Matt. 11:29-30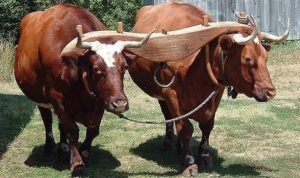 The "yoke" Jesus refers to in the above Scripture is well illustrated by the process of training a young bullock to plow. In some parts of the world, the farmer will have the young bullock harnessed to the same yoke as a fully matured ox. The bullock, dwarfed by the ox, will not actually pull any of the weight. The ox will bear the whole load, but the young bullock is merely learning to walk in a field under control and with a yoke around its neck.
That's the way we as believers learn how to walk in the light of the gospel. When a believer takes Christ's yoke, he learns to walk along with the Lord in a new controlled way. He never forgets that he is harnessed to Jesus because the Holy Spirit bears witness of it (Romans 8:16). He learns about Christ and who the Lord really is as he allows Christ to bear the weight of the load. So, the yoke is made easy and the burden is light.
If your burden is not easy, perhaps you haven't learned enough about the one with whom you are yoked. Jesus can and will bear the weight of all your burdens. His promise is that you "will find rest unto your souls."
---