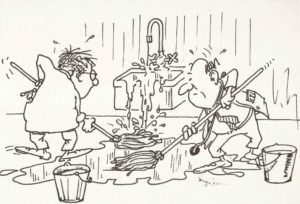 "Examine yourselves, to see whether you are in the faith. Test yourselves. Or do you not realize this about yourselves, that Jesus Christ is in you? – unless indeed you fail to meet the test."
– 2 Corinthians 13:5 (ESV)
The story is told of a mental hospital that for many years had devised an unusual test to determine when their patients were ready to go back into the social population.
They brought a patient who was a candidate for release to a room where a water faucet was left on so that the sink overflowed and was pouring water all over the floor. Then they handed the patient a mop and a bucket and told him to mop up the water. If the patient had enough sense to turn off the faucet before mopping up the water, he was ready to be released. But if, as in the case of many, the patient started mopping while the water was still flowing, they kept the patient for more treatment.
As Christians, all of us face a world where evil lives in the form of racism, jealousy or hatred. The results of a sinful society are to be found everywhere we turn. But, like the patients in the mental hospital, until we realize where the source of that evil is, we will make no real contribution to mopping it up. To see less evil in the world means that we must first conquer the evil that is pouring forth from our own heart. Once that faucet is turned off by the power of the Holy Spirit, then we can begin to deal with the evil around us. Only then can we successfully mop up evil with spiritual warfare.
Another way to say this is:
BEFORE YOU TRY TO CLEAN UP OTHER PEOPLE'S MESS, SHUT OFF YOUR OWN FAUCET AND MOP UP AROUND YOUR OWN FLOOR FIRST.
If you can't do that, you probably need more treatments.
Your Servant In Christ,
Rev. Charles Twymon