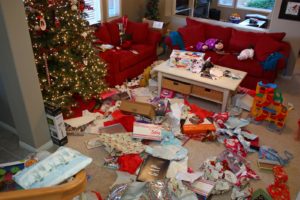 "And there were in the same country shepherds abiding in the field, keeping watch over their flock by night.."
– Luke 2:8-16
Take the time to read the entire above passage of Scripture in your Bible. Then compare the wonderful words of Luke's Christmas narrative to this all-too-true modern day parody:
And there were in the same country children keeping watch over their stockings by the fireplace at night.
And, Lo! Santa Clause came upon them; and they were sore afraid.
And Santa said unto them: "Fear not, for behold, I bring you tidings of great joy which be to all people who can afford them.
For there will be with you a multitude of relatives and friends, praising you and saying, 'Thank you so much, it was just what I wanted.'
And it shall come to pass as the friends and relatives have gone away into their own homes, the parents shall say to one another, 'What a mess to clean up! I'm tired, let's go to bed and pick up this mess tomorrow. Thank goodness, Christmas only comes once a year! Maybe I can exchange this crummy gift for something else!'
And they go with haste to their cold bed and find their desired rest."
Your Servant In Christ,
Rev. Charles Twymon